There are many accommodations throughout Budapest for any type of traveler, style, and budget. Let's narrow the list down to the best areas of the city to make it easier for you to find the best places to stay in Budapest. 
Do you want to see Budapest's historic and cultural sights? Maybe you want to experience the nightlife in a ruin bar? Perhaps you're keen to explore the city's trendiest hotspots.
No matter what your interests are, there's an area of Budapest that will be best suited to you.
If you visit Budapest for the first time, it is safe to say that downtown is the best place to look around when searching for accommodation. This way you can be in the middle of everything: most of the attractions, nightlife, cafes, restaurants and magnificent buildings.
This guide will help you decide which side of the river to stay on and help you narrow down where to stay in Budapest based on the top things to do in each neighborhood.
To help you make the most out of your time in Budapest, this guide will show you the best areas to stay – ranked.
To the west of the River Danube you will find the Castle District, famous for stunning landscape, historical churches and palaces, and incredible views.
For a more upscale experience, staying in the Castle District might be the best, just remember that you will probably need to cross the Danube to experience a livelier side of Budapest.
As you cross over the Danube through the Chain Bridge, you'll find yourself in downtown, the modern heart of the city.
The biggest range of hotels and hostels are situated on the Pest side, close to the city center. From 5 star international hotels to cozy hostels and some boutique apartments, most of them are close to the top attractions in Budapest. If you would like to discover Budapest without using public transportation, this is the area to stay.
If you would like to experience some luxury, then book a room at the top hotels. There is a huge selection of international hotels like Ritz-Carlton, Kempinski or those that are situated right on the Danube promenade such as InterContinental, Sofitel, Marriott.
One of the most luxurious hotels in Budapest is Gresham Palace Budapest – its building is an art-deco masterpiece. The hotel faces the famous Chain Bridge and has a superb view of the Castle District and the Danube. This hotel worth a visit even if you can not afford a stay here. It has an upscale restaurant, too.
The Downtown neighborhood is also the home to great restaurants, impressive architectures, and a number of key cultural and historic sights.
You can find many shopping boutiques as well, along two of the most expensive streets in the city, called Váci street and Deák Ferenc street.
Continuing to the east you pass through Terézváros, Erzsébetváros, Józsefváros which are located within Budapest's main core and are home to a variety of world-class restaurants, trendy bars, and unique tourist attractions.
Ferencváros is a cool, recently upcoming area. This is where you will find the Central Market which offers daily fresh products and Ráday street that is full of restaurants and bars.
So, ready to see where to stay in Budapest? Continue reading my guide about the best areas!
This district looks stunning day and night.
The streets are all renovated, many of them have been converted into pedestrian zones.
There are several posh cafes and restaurants here and shopping lovers can find many shops here. 
This district is home to many hotels, many of these are 5-star luxury hotels.
District V is expensive, but many of the attractions are in a walkable distance from here and if you need to use public transportation, well… good to know that this district is the main hub of the whole city. There are many trams, buses and 3 of the 4 subways of Budapest meet here.
The two bridges of this district – Chain Bridge and Liberty Bridge – offer easy access to Buda side, too.
The is main street of downtown is Váci street. This street and the neighboring areas are one of the favorites of tourist as these are perfect for strolling and shopping.
Little shops and hidden boutiques can also be found throughout the district.
During the winter holidays, the biggest Christmas Markets are held in front of St. Stephen's Basilica and at Vörösmarty Street.
Things to See and Do in Downtown
Visit at St Stephen's Basilica, a Roman Catholic basilica and architectural marvel. Be sure to climb up to see the panorama from the top.
Have a look at the Hungarian Parliament building and if you have time, you can visit its inside with a guided tour.
Not far from the Parliament, on the Danube Promenade you can see the Shoes on the Danube.
Walk across the Chain Bridge that connects Pest with Buda, where you can walk around some of the most iconic sights of Budapest.
Margaret Island, a lush green space located between Buda and Pest, in the direct neighborhood of District V. You can rent a bike or have a stroll or a picnic on the island. At the north part of it there is a Japanese Garden with a small lake.You can also visit Palatinus spa or the Alfréd Hajós National Sport Swimming Pools all year round, but I would recommend them during the warmer months.
The best way to see the city's most iconic sights illuminated and glowing is by taking a night cruise.
This calm, family-friendly and clean hostel is located a short walk from the Danube, this hostel is at the heart of Downtown, directly at Váci utca, the main shopping street.
The hostel provides shared and private rooms, some of them have a private bathroom.
Guests can enjoy free wifi, unlimited coffee and tea, and cooking and washing facilities
Pal's Hostel & Apartments
Pal's Hostel is not just a hostel but a chain of apartments around St Stephen's Square, right at the heart of Budapest.
They offer dorm beds and private rooms as well as complete apartments.
The reception and lobby are in the middle of them. It serves also as a meeting point for travelers. Ideal for couples, groups of friends and for those who like to make new friendships while traveling.
Iberostar Grand Hotel Budapest
This luxurious hotel has a superb location, right between St. Stephen's Basilica and the Parliament Building, a corner away from the Embassy of the USA at Szabadság Square.
This five-star hotel has spacious rooms, a terrace where you can enjoy a drink in your hands and there is a jacuzzi bath in spa area that is perfect to ease your legs after a long day of exploring the city.
This 3 star hotel is located right in the middle of the downtown area, at Erzsebet Square, just 200 m away from St. Stephen's Basilica. From here the most of the city's main sights are easily walkable. There are many bars, restaurants in its direct neighborhood. The rooms are air-conditioned, and have a modern design.
This beautiful Boutique Hotel right at the heart of Budapest belongs to the top 1% of all hotels in Budapest.
It was also named the #1 Hotel in the World in the 2017 TripAdvisor Travelers Choice Awards.
The extraordinary of the hotel was inspired by music. Each room is uniquely decorated, tailor-made to one single musician.
Its Music Garden Courtyard is regularly filled with piano music.
It has a rooftop garden that is open all year-round and offers a 360˚ view to the Buda hills, Castle district, St. Stephen's Basilica and downtown.
Four Seasons Hotel Gresham Palace Budapest
Even if you're not staying in this luxury hotel, take a peek inside. Its a good glimpse at how the upper class lives. 🙂
The hotel's design embodies historic grandeur and youthful exuberance, combines regal splendor with comfort. 
The restored palace brings together 2 million mosaic tiles, an ornate Preciosa chandelier, dramatic stairways.
It has 160 guest rooms, and the floor-to-ceiling windows of the 16 suites have enchanting views look out to the River Danube, Chain Bridge, Buda Hills, Royal Castle, and Fisherman's Bastion.
Four Seasons Hotel Gresham Palace Budapest charges no additional fee for children 18 years of age and under occupying the same guest room as their parents or guardians (space permitting). There is a maximum of one child up to 18 years of age with two adults per room, or two children up to 18 years of age with one adult per room.
Erzsébetváros, District VII.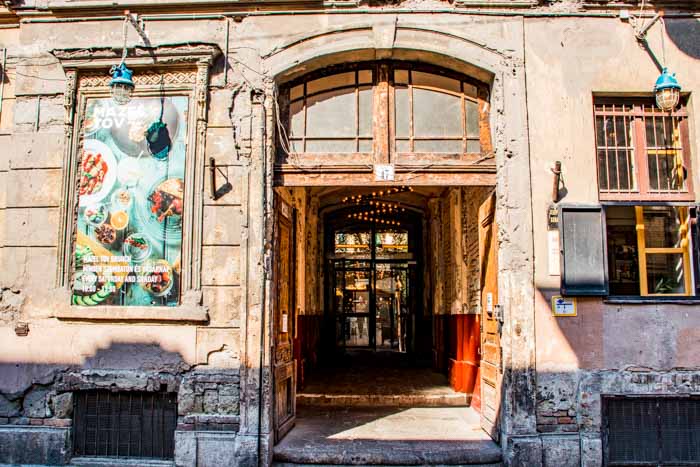 Why stay in Erzsébetváros (Elisabeth Town)?
This neighborhood is known as the Jewish quarter and its narrow streets are home to a number of heritage, cultural and religious sites, including several notable synagogues such as the second largest synagogue of the world, the Great Synagogue of Dohány street.
What were a ghetto once, today, after a few years of gentrification, now house ruin bars, pubs and design shops, making Erzsébetváros the liveliest district in the city.
This district is popular amongst locals and tourists, there are several street food places, crafts shops and speciality cafes. You can also find great brunch restaurants with an eclectic interior.
If you're looking for a great night out in Budapest, Erzsébetváros is the place to stay.
For budget travelers, you can find colorful hostels here which are just minutes away from the party places. District VII is vibrant, but also down to earth, multicultural and exciting. If you want to party, meet like-minded individuals and have an explosive time in Budapest then district VII is where you should stay in.
For something more sophisticated, head to the New York Palace on Grand Boulevard and enjoy a coffee made with a 19-century recipe and a great selection of its delicious cakes.
Things to See and Do in Erzsébetváros
Enjoy chic cocktails and stunning décor at the iconic New York Palace.
Visit the extraordinary Dohany Street Synagogue, the largest synagogue in Europe, and second largest in the world.
Sip sophisticated cocktails at Jardin Bar.
Drink, dance, and laugh the night away at Doboz, an open-air ruin bar where the music's great and the drinks are cheap.
Spend a night at Szimpla Kert. Built in a former factory this converted open-air space was the first ruin bar in the city.
Try custom cocktails and a charming atmosphere at Warmup Bar.
Enjoy urbane cocktails at Bar Pharma, a stylish speakeasy in the city.
Dance the night away at Instant, a forest themed ruin bar with six floors of great drinks and music to choose from.
Wander the streets and look at the massive murals and street art that bring life and color to once grey buildings.
Best Hostels in Erzsébetváros
This hostel has a great social atmosphere because the staff are travelers, too. They cook your dinner, offer daytime adventures while sharing their knowledge about the city.
The hostel is surrounded by restaurants and ruin bars, the best nightlife spots.
The dorms are clean and comfortable.
Best Hotels in Erzsébetváros
Hotel Mika is located in Kazinczy Street, in the historical Jewish quarter which is the "party district" of today's Budapest.
Each room has a mini fridge, wifi is available throughout the property. 
The apartments have a kitchen area with oven and microwave.
There is also an on-site bar, and the neighborhood is also full of bars and restaurants.
This small, cozy hotel is conveniently located in center of the city.
The rooms are spacious, well-heated in cold months and have air-con from June to September. There is a sauna on its first floor and offers massage services.
Continental Hotel Budapest
The hotel offers a four-star accommodation at the heart of Budapest's party district. It has a relaxing wellness centre, guests can rest up after a night on the town in the sauna or by taking a dip in the pools.
Each spacious room features modern décor, A/C, a mini-bar, and on-demand movies.
Queen's Court Hotel & Residence
This five-star hotel is just a few steps away from Blaha Lujza tér Metro Station, while the downtown area can be reached with a 10-minutes walking.
It has a retro-classical spa area with indoor pool and a hot tub, and its garden is a perfect, inviting place for those who would like to relax.
The hotel provides spacious suites with balconies, air conditioning and kitchenettes. Some suits have living room and dining area, too.
The in-house restaurant serves international cuisine and wines. In its bar you can enjoy a drink before the night in town.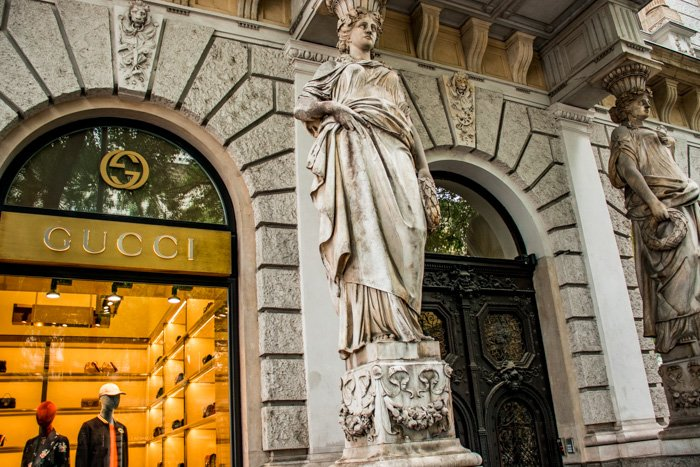 This area is for the culture lovers and for those who wish to be close to shopping and cultural attractions without the price tag of Downtown. While this is one of the smallest district in Budapest, it is the most densely populated neighborhood.
This is the district where Andrássy Avenue lays with the Opera House, Music Academy, the Operetta. You can walk from this area to almost every attraction of the city, but the Millennium Subway is right below of the Avenue, too.
You can get to Heroes' Square and City Park easily, where you can try the pools of Széchenyi Baths.
Check out Liszt Ferenc square for hip outdoor café culture.
Stroll along the Grand Boulevard of Budapest, to sample its architecture.
Things to See and Do in Terézváros
Dive deep into Hungary's communist and fascist history at the House of Terror Museum.
Enjoy a cosy atmosphere and great cocktails at Tuk Tuk Bar.
Wander along the iconic Andrassy Avenue, a UNESCO World Heritage Site.
Dine on a delicious dishes and a variety of cuisines at an affordable price at Vakvarjú Restaurant.
Drink a cup of coffee and try the stellar pastry at Bite Bakery Café.
Get back to nature and take a relaxing stroll through Városliget, one of the largest public parks in the city.
Stand at the centre of Heroes Square.
Kick back and enjoy a pint at Kertem, an outdoor beer garden with a lively atmosphere.
Visit all the best pubs and bars by taking a pub crawl tour of Budapest.
Best Hotels in Terézváros
This modern and spacious hotel is 270 m from the St. Stephen's Basilica and 200 m from the Opera House.
Surrounded by bars, shops and restaurants, this hotel is conveniently located near the top attractions.
Its 56 recently refurbished rooms come with modern furniture, fixtures and finishings. The bathrooms are fitted with a shower and include free toiletries and a hairdryer.
This three-star hotel offers guests a comfortable and relaxing base in the heart of the city.
The recently built hotel varies classical and modern architecture with freshness and elegance in a unique atmosphere.

The Great Synagogue, St. Stephen's Basilica, Andrássy Avenue and the Opera House are just a few steps away. You can enjoy an elegantly furnished room with private, beautiful bathrooms.
7Seasons Apartments Budapest
The 7Seasons Apartments offers spacious 1- to 3-bedroom apartments in the heart of Budapest, only 100 m from Deák Ferenc tér, which is a major public transportation hub.
All apartments feature a kitchen to prepare your own meals, but you can also find lots of cafes, restaurants and a 24-hour grocery store in the immediate vicinity of 7Seasons Apartments.
The Apartments have a 24-hour front desk and daily maid service.
Wireless internet access is available in all apartments free of charge. A shuttle service can be requested for a fee in advance.
This well-located property is on the World Heritage site of Andrássy Avenue, only 200 m away from the Opera House.
This 4-star hotel has a beautiful interior and their 99 rooms are also tastefully decorated.
Each room comes with a private bathroom and exclusive bathroom amenities. Some of the rooms have a seating area to relax after a busy day.
Its restaurant offers international cuisine and quality wines, and the buffet breakfast has wide selection of delicates and in the Lounge Bar coffee, tea and mineral water are free all day long.
Eurostars Danube Budapest
The hotel that was built in 2016 is located in the center, only 250 m from Deák Ferenc Tér, the city's main transport hub.
Each room has air conditioning, private bathroom with hairdryer and free toiletries.
The hotel has a 24-hour front dest and a bar that serves guests from late afternoon.
Guests also have access to a fitness center.
Castle District, District I.
The Castle District is one of the most beautiful areas in Budapest. It has cobbled streets, stunning monuments, wonderful panorama and photo opportunities.
District I is home to the Royal Palace, Matthias Church and the famed Fishermen's Bastion.
It is a calm, quiet and safe area that looks stunning at night, and you can admire the lit up façade of the Hungarian Parliament on the other side of the Danube.
Best for those who are not interested in busy city life and parties.
During the day, all the attractions of Budapest are easily accessible by foot or public transportation.
It's a luxury area and quite expensive.
Things to See and Do in the Castle District
Walk along the terrace of Fisherman's Bastion and have a look at the amazing views of the Danube and Pest.
Wander to Hungarian Royal Palace which is home to the National Gallery and Budapest History Museum.
Drink cup of coffee at Ruszwurm, the oldest coffeehouse in Budapest, and try their delicious cakes (I recommend the strudels and somlói galuska).
Visit Matthias Church and walk up the stairs of the church to see the panorama.
Explore the Hospital in the Rock Nuclear Bunker, a World War II hospital situated in the caverns under Buda Castle. Now a museum, it features waxwork re-creations and authentic equipment.
Soak in Rudas Baths and feel relaxed and rejuvenated after a long day of sightseeing.
Best Hotels in the Castle District
This hotel is located in the castle district and offers air-conditioned rooms with free WiFi throughout the property.
It is only 100 m from the Matthias Church, so if you want to be in the rich quarters but not pay a fortune, this hotel is might be right for you. The hotel itself needs some improvement, so check the reviews first before reserving.
The hotel has great views of the Danube and the Parliament from the Buda side river bank.
It takes about half an hour to get to the main sights of Pest downtown.
The hotel shows the quirky artworks of contemporary artist, Donald Sultan.
The hotel serves continental breakfast.
Pest-Buda Hotel - Design & Boutique
This intimate boutique hotel with individually designed rooms in a stunning Castle Hill location has opened its doors in 1696, so it is the oldest building that functions as a hotel in the Castle District.
It also has a bistro with typical Hungarian flavors and wines.
Boutique Hotel Victoria Budapest
On the shores of the Danube, this delightful boutique hotel has stunning views of the river and Pest.
The city's top attractions, including Buda Castle and the Chain Bridge, are just a short walk away.
Each of its 27 non-smoking 4-star deluxe rooms have floor to ceiling windows facing the Danube. It also has 3-star rooms with the same amenities of the 4-star rooms, but without  a view of the river. The entrance of these rooms are from a different building, from Fő street.
The reception and the buffet breakfast is served in the main building.
Modern and stylish, this hotel boasts a day spa, sauna and massage service.
The hotel is right next to Matthias Church and Fisherman's Bastion. It takes a quick walk to Buda Castle, Budapest Historical Museum and the Hungarian National Gallery. Cross the famous Chain Bridge and explore Pest's city center – the walk takes just 15 minutes.
They have stylish guest rooms with complimentary WiFi. The brand new superior and executive rooms offer a spacious, modern retreat with a separate bathtub and walk-in shower, plus a 42-inch HDTV.
Suites have a dining area and a separate living room with sofa bed.
Józsefváros, District VIII.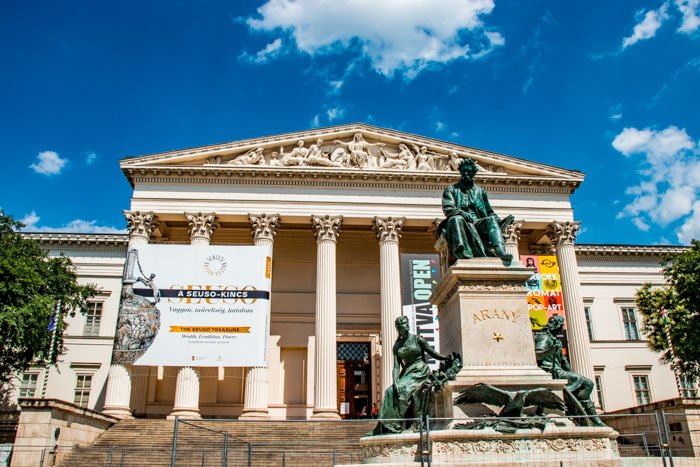 Józsefváros has a long, bipolar history. On one hand, it is where you find the Palace Quarter with building that were built in the great building period of 1860-1930, on the other hand, it was the worst inner-city slum not too long ago.
The "inner" part of the district – until the line of Grand Boulevard  – includes the National Museum, Public Library, Hungarian Radio building and beautiful mansions that are in desperate need of renovation. The area is in constant building and renovation phase.
The other, "outer" side of the Grand Boulevard is the area where the city's Roma community was centered.
A few years ago, travelers would have avoided Budapest's District VIII Józsefváros at all costs.
Rough and dangerous, it was not a nice place to visit.
Today some areas (behind Corvin cinema, and behind Üllői street) is in the process of a huge renewal. Expensive new residential buildings, fitness centers, supermarkets and high-tech office buildings grow out of nothing like mushrooms.
Thanks to an influx of stylish bars, trendy restaurants and independent boutiques, Józsefváros is now one of the hottest neighborhoods in the city, popular with students, it is a lively and social neighborhood.
Things to See and Do in Józsefváros
Dive into Hungarian history at the Hungarian National Museum.
Enjoy a lively atmosphere and delicious food at Zappa Bistro, a corner bar whose interior is dominated by a striking mural by French artist Jean-Michel Verret.
Visit Szabó Ervin Library, this Neo-Baroque Wenckheim Palace built in 1889.
Best Hostels in Józsefváros
This hostel is on the third floor of a house, just 51 m from Budapest's Kálvin Tér which is a busy square with tram, bus and subway stations.
This hostel has private and shared accommodations and offers four different styles of rooms, perfect for singles, couples, friends, and groups. Guests can enjoy free wifi, comfortable beds and a social atmosphere.
The common kitchen provides a fridge, microwave and coffee as well as tea makers.
Free maps and tourist information is provided at the 24-hour front desk.
Thematic evenings and workshops are regularly organized by the hotel staff.
Wi-Fi access is free of charge in the entire hostel.
Best Hotels in Józsefváros
Fraser Residence Budapest
Fraser Residence Budapest is next to the Corvin Shopping Center and 450 m from the Corvin-negyed M3 Metro Station.
All studios and suites are air-conditioned and soundproofed and include free WiFi.
It's stylish interior design is combined with a spacious layout and modern comfort.
Toiletries from L'Occitane en Provence are provided.
All units have a well equipped kitchen with a dining area. They have flat-screen satellite TV, a DVD player, a laptop-size safe and an iPhone docking station.
The suites include a living area with comfortable sofas and most units come with a private balcony or terrace.
Accommodations at Residence Fraser are fully serviced and buffet breakfast is also available. The reception is open 24 hours a day.
The Hotel Museum Budapest is in the heart of the city, just a few steps from Váci street, the St. Steven's Basilica and the Great Synagogue.
The newly designed standard and superior rooms are soundproof, they have laptop-size safe, a minibar and a TV with satellite channels. Free Wi-Fi is available throughout the property.
The rich buffet breakfast in the Hotel Museum Budapest includes Hungarian specialties and provides a good start to the day. The hotel's lobby bar serves a wide selection of cocktails and wines.
Rejuvenate your body and soul in the sauna, the hot tub, the Turkish bath or in the fitness room, or treat yourself to a relaxing massage.
Courtyard by Marriott Budapest City Center
The Courtyard Budapest City Center provides a convenient location on Blaha Lujza Square, with good access to metro, bus and tram stops.
Each room at the Courtyard Budapest City Centre includes internet access, a well-lit work desk and an ergonomic chair. Tea and coffee-making facilities are available, as well.
The Oléo Pazzo Mediterranean bistro serves breakfast, lunch and dinner. When guests are in a hurry, they can also visit the Grab 'n' Go Shop for a snack, open 24 hours a day.
Guests can park in the Courtyard Budapest City Centre's parking lot.
The Atrium Fashion Hotel near central Budapest's main public transportation hub Blaha Lujza Square has free wireless internet access and tea/coffee-making facilities in all rooms.
All the main historic sights and shopping areas are easily reachable by foot or by public transportation (M2 metro station close by).
The glass-roofed atrium of the hotel is the place to enjoy the rich buffet breakfast.
The whole Atrium Fashion Hotel is non-smoking and rooms come with adjustable air conditioning and soundproof windows to guarantee a relaxing stay in the bustling city center.
Hotel Palazzo Zichy Budapest
The hotel is situated right in the middle of the Palace District. The building of the hotel itself is also from the 19th century.
The building was a mansion built for the famous Hungarian noble, Count Nándor Zichy. It was transformed into a four-star hotel in 2009.
It has 80 well-equipped contemporary style rooms.
Hotel Nemzeti Budapest - MGallery by Sofitel
Located at Blaha Lujza Tér M2 Metro Station, Hotel Nemzeti Budapest – MGallery by Sofitel is a 4-star property that offers modern rooms in a historical building.
All stylish, air-conditioned rooms are equipped with a flat-screen TV, coffee/tea making facilities, a mini-bar and a private bathroom with a bathtub or a shower cabin.
Wi-Fi is available for free.
Bathrobes, slippers and toiletries are provided.
An elegant drink bar, laundry service, a self-service business center with fax and photocopying can make your stay convenient in case of business purposes, while the concierge desk is at your disposal if you wish to explore the city.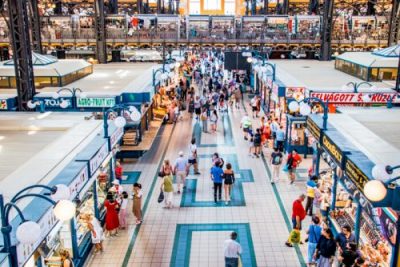 Ferencváros is a diverse part of the city, a developing district.
It has various areas which are in need of renovation, but the district has a conscious effort to build its riverfront into a cultural hub.
A riverfront warehouses were turned into public/private cultural centers, and the new National Theatre was also built in this district.
It is also home to the Budapest Central Market Hall where you can get fresh fruit and veggies.
There are lots of new restaurants, bars and hipster places opening up.
Ráday utca in Inner Ferencváros, is packed with trendy outdoor cafés, galeries, and restaurants including Costes.
The area is not yet as expensive as other district and it can be just 10 minutes walk away from the Inner City.
If you get your accommodation close to the Central Market, you are just a few minutes walk from the Inner City, but without having to pay the high prices.
Things to See and Do in Ferencváros
Visit the Great Market Hall and try some Hungarian delicacies.
If you would like to taste some cooked foods, then I recommend visiting Ráday street with its almost 50 restaurants.
If you would like to try a Hungarian liquor and interested in its making, visit Zwack Unicum Heritage Visitors' Centre.
Walk along the river to the Millennium Quarter or to Kopaszi dam.
Best Hostels in Ferencváros
The hostel situated in the historical area of Budapest, a few minutes from Danube river.
The Central Market Hall is just one building far from the hostel and with a few minutes walk, you can also get to the ruin bar area of the city.
There are two subway lines, and one tram line in its proximity.
The hostel has private rooms and dorms, so it is suitable for individual travelers and group of friends, too.
The hostel has cosy comfortable bunk beds, lockers, reading lights and shelves next to the beds which are separated by curtains. Beds are prepared with sheets on, towels provided for free.
Best Hotels in Ferencváros
Panorama Wellness Apartment
Located just 2.1 km from Great Market Hall and from Hungarian National Museum, Panorama Wellness Apartment provides accommodation situated in Budapest.
The apartment includes a bedroom, a living room, and a bathroom with free toiletries and a hot tub. The kitchen has a dishwasher and an oven, as well as a coffee machine.
The apartment provides a range of facilities such as a wellness area including a hot tub, a sauna and a fitness center.
A security deposit of EUR 200 is required upon arrival for incidentals.
The Three Corners Lifestyle Hotel
The brand new The Three Corners Lifestyle Hotel is located in the centre of Budapest.
Guests can enjoy the on-site bar as well as the sauna. Free WiFi is available throughout the property and paid private parking is available on site.
Top Places to Stay in Budapest
We hope our neighborhood guide will help you decide where to stay in Budapest.
As you saw, some neighborhoods are better for visiting museums and attractions, and others are closer to the best bars and clubs.
Choosing the right neighborhood will make your trip more relaxing and fun, especially with so many awesome and unique things to do in Budapest.
Did we miss anything? Let us know below!
If you liked this post, please share it! Thank you! 🙂 
You might be interested in these posts, too: